Retro Audio Guestbook Frequently Asked Questions
FAQ - Here you will find answers!
GENERAL INFO ABOUT THE AUDIO GUESTBOOK
How does the audio guestbook work?
Very simple! Your guests pick up the phone and hear our standard announcement or your personal announcement. "After the beep" guests can leave voice messages. When they're done, they just put the phone back down. The message is then stored securely.
An instruction for your guests, in the form of a pretty rollup banner (DIN A3 format), is included in every delivery.
How does my personal greeting (optional) get on the phone?
After your booking, you can send us a personal announcement to our mobile number +49151-17613688 via WhatsApp. Please write the order number briefly in the chat.
Alternatively, you can send us an audio file by e-mail.
Otherwise, we upload our standard announcement.
What does the standard greeting sound like?
Some guests may not be able to attend in person. Is there a solution?
For this purpose we offer you our "Virtual Audio Guestbook".
We create a personalized website for you, where guests can easily leave voice messages for your audio guestbook.
The page will be activated one day before your booking and will be online for seven days after your event. This way, even guests who may not have used the Retro Audio Guestbook at the event itself have the opportunity to send you messages afterwards.
Do the guest books require a WiFi connection?
No. Connect the connection cable to the charged powerbank - after about 30 seconds the Retro Audio Guestbook is ready for use.
The included powerbank lasts for more than 24 hours without problems.
How do I order the audio guestbook?
On the home page you will find our collection of Retro Audio Guest Books and an availability check. Just enter the date you want to book your audio guestbook.
After checking out in the store, the audio guestbook is reserved for you. You will receive a booking confirmation from us by e-mail.
My phone of choice is already booked. And now?
Just keep looking around. Technically, all audio guestbooks are built identically.
Alternatively use our contact form. If your event is not too timely, we'll see what we can do. Our collection is constantly expanding.
Do you accept international orders?
Deliveries within Germany are currently possible via our website.
Write us via the contact form and we will see what is feasible. We will charge you for the increased shipping costs.
Can I pick up the audio guestbook in person?
Of course, a personal pickup in Beckum is also possible. You even save 15,- €. When you return the phone, we will pay the amount to you.
How far in advance should I book?
We recommend you to place your order as early as possible. This way you can be sure to get the phone you want. Our booking system allows orders of audio guestbooks up to one year in advance.
Can I book the audio guestbook as a gift?
Of course! If you are a best man/maid of honor or a guest looking for a personalized gift for a wedding or birthday, the audio guest book is just perfect.
If you want to surprise someone, you can order our voucher for an audio guestbook.
How can I pay in the store?
We offer several payment options. You can choose between ApplePay, PayPal, Amazon Pay, credit card payment or bank transfer. Please note that we can send the audio guestbook only after payment has been received. If you have already booked with us, we also offer you the option of "payment by invoice".
When will the audio guestbook arrive?
We ship your personalized Retro Audio Guestbook via DHL, so it usually arrives two days before your booked event date. We will send you an email with the shipment number to track the shipment.
How and when do I have to return the retro phone?
For the return shipment please use the original packaging. A return label is enclosed with the delivery. So simply stick it on and drop it off at the post office or the nearest DHL parcel store on the following working day.
WHAT HAPPENS AFTER THE EVENT
When and how do I receive the audio greetings?
As soon as we receive your return, we will start optimizing the voice messages and provide you with a digital download. The processing takes 2-3 working days. Your download contains all messages as individual MP3 files, an individual - for you compiled - overall composition with all greeting messages and all messages as MP4 files (videos) for easy sharing. You can listen to the files on any computer, tablet, cell phone or any other device that can play MP3 or MP4 files.
If you ordered personalized accessories, such as a USB stick, an audio CD, a mini speaker or a vinyl record, you will receive a separate shipping info from us via email after completion.
When will I get my rental deposit back?
After you return the audio guestbook to us, we will do a functional test and check the device for damage. If everything is in order, you will receive the paid deposit back within seven working days.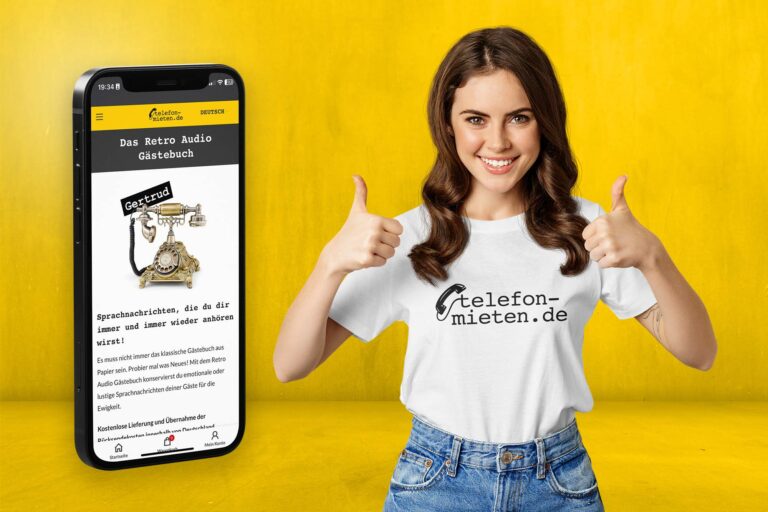 How it all began...
The emergence of
telefon-mieten.de
The short answer: The idea came from a friend's WhatsApp status. But that was not the end of the story. Countless hours of research and ordering electronic components on the Internet followed. The search for old phones began, a laser engraver moved in and several photo shoots took place. In addition, this website was programmed elaborately. Here you can see the result!
Our claim is to be the #1 audio guestbook rental company. We want to inspire you and give you a lifetime of memories. We are convinced that our result lives up to this claim.
We would be very happy if you book your audio guestbook with us.
Warm regards,
Your team from
telefon-mieten.de
Videos from
telefon-mieten.de on YouTube
Our company history and facts
I should be incapable of drawing a single stroke at the present moment; and yet I feel that I never was a greater artist than now.
Design & development process demonstration
A wonderful serenity has taken possession of my entire soul,like these sweet mornings of spring which I enjoy with my whole heart.